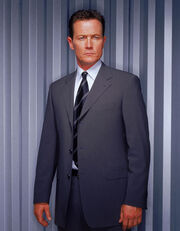 Derek Powers is the main antagonist of the film Batman Beyond. He is a greedy and corrupt businessman who has gained total corporate control over Wayne & Powers, Inc, and is secretly using its resources to provide the terrorist organization KOBRA with weapons of mass destruction. After he is exposed to an experimental nerve gas and is subjected to nuclear radiation to save his life, he loses his sanity, and his body becomes radioactive and translucent. Renaming himself Blight, he goes on a destructive crusade to destroy the new Batman, enlisting the help of various criminals as well as seizing control of much of Neo-Gotham's criminal underworld.
He is portrayed by Robert Patrick.
Batman Beyond
Ad blocker interference detected!
Wikia is a free-to-use site that makes money from advertising. We have a modified experience for viewers using ad blockers

Wikia is not accessible if you've made further modifications. Remove the custom ad blocker rule(s) and the page will load as expected.