Boss Carl Grissom was a powerful crime lord.  
Batman (1989)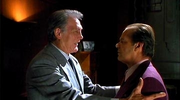 Carl Grissom is the most powerful crime lord in Gotham City, with almost the entire Gotham City Police Department (except
Commissioner Gordon
) on his payroll, including Lieutenant
Max Eckhardt
.
Batman Triumphant (2000)
He was the one who sent Joe Chill and Jack Napier to kill and mug the Waynes. Although, Man-Bat claims this as well by carving it on the spot where Bruce's parents died with his claws.
Ad blocker interference detected!
Wikia is a free-to-use site that makes money from advertising. We have a modified experience for viewers using ad blockers

Wikia is not accessible if you've made further modifications. Remove the custom ad blocker rule(s) and the page will load as expected.