Floyd Lawton, also known as Deadshot, is an assassin and leader of the group The Assassins, who usually work for villains.
Batman: Altor's Demise
In Batman: Altor's Demise he appears with The Assassins, hired by The Opposants, to kill Batman. He is one of the primary antagonists, and is met various times.
Batman VS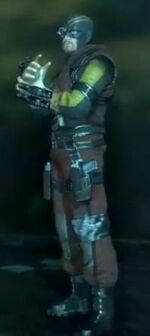 In
Batman VS
,
Deadshot
fights on the side of evil.
Finishing Moves (Killing)
Close Range: Deadshot puts a gun to his opponents head and shoots, instantly killing them.
Hitman: Deadshot walks backwards and equips a sniper rifle, which he shoots at the opponent, making their head explode.
Appearances
Comics
Films
Video Games
Ad blocker interference detected!
Wikia is a free-to-use site that makes money from advertising. We have a modified experience for viewers using ad blockers

Wikia is not accessible if you've made further modifications. Remove the custom ad blocker rule(s) and the page will load as expected.