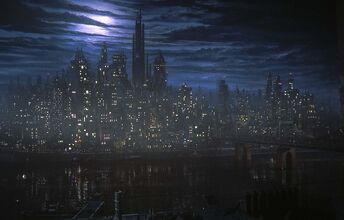 Gotham City is a fictional American metropolis and is the main setting of the television series Knight of Gotham. It is located in New Jersey and is the biggest city in the state, as well as the second biggest city in the United States all together, only second to New York City. It is Batman's current home.
History
Notable Areas, Landmarks, Institutions and Businesses
ACE Chemicals Factory:
City Hall:
The Daggett Building:
GCPD Headquarters:
GNN Headquarters:
Gotham City East High School:
Gotham City North High School:
Gotham City Original High School:
Gotham City Public Library:
Gotham City South High School:
Gotham City West High School:
Gotham First National Bank:
Gotham University:
The Iceberg Lounge:
Monarch Theatre:
Moreno's Comedy Club:
The Stacked Deck:
Wayne Manor:
Wayne Tower:
Trivia
Ad blocker interference detected!
Wikia is a free-to-use site that makes money from advertising. We have a modified experience for viewers using ad blockers

Wikia is not accessible if you've made further modifications. Remove the custom ad blocker rule(s) and the page will load as expected.