Not to be confused with Batman: Gotham Knights or Gotham Knights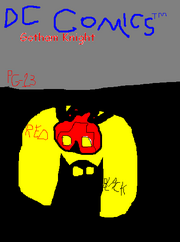 Gotham Knight is a movie starring Eric Bana, Blake Lively, Larry Lamb, Michael Fassbender, Milo Ventimiglia, Michael Emerson, and Wesley Snipes.
Plot
Beginnings
TBA
Cast
Eric Bana - Bruce Wayne / Batman
William H. Macy - Commissioner Gordon
Alex Pettyfer - Dick Grayson / Robin
Zachary Gordon - Young Jason Todd / Robin II
Milo Ventimiglia - Older Jason Todd / The Red Hood
Larry Lamb - Alfred Pennyworth
Wesley Snipes - Lucius Fox
Matt Damon - Harvey Dent
Michael Fassbender - Joker
Blake Lively - Vicki Vale
Michael Emerson - Arnold Wesker
Ray Liotta as the voice of Scarface
Soundtrack
Name:
Song:
Info:
Hero

03:07

HERO - SKILLET (Lyrics)

Batman's theme
The Animal I Have Become

03:56

Animal I Have Become (w Lyrics)

Red Hood's theme
Ad blocker interference detected!
Wikia is a free-to-use site that makes money from advertising. We have a modified experience for viewers using ad blockers

Wikia is not accessible if you've made further modifications. Remove the custom ad blocker rule(s) and the page will load as expected.