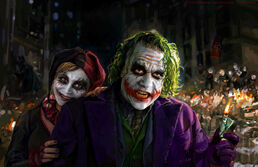 Formerly Doctor Harleen Quinzel, she fell in love with the Joker, becoming one of his minions.
Appearance
Episodes
Personality
Abilities
Harley is somewhat skilled at hand to hand combat and acrobatics
Weapons and Paraphinalia
Harley uses a machine-gun pistol similar to the Joker's and a switchblade
Ad blocker interference detected!
Wikia is a free-to-use site that makes money from advertising. We have a modified experience for viewers using ad blockers

Wikia is not accessible if you've made further modifications. Remove the custom ad blocker rule(s) and the page will load as expected.