Killer Croc is a villain confronted in the sewers in Batman Superheroes. He is unlockable after you defeat him in the sewers, and he appears as a green pallete swap of Bane.
Moves
Tick Tock (Signature) - Croc uppercuts the opponent and sends them flying into the air.
Dinner Time (Finisher) - Croc grabs the opponent and smashes them into the ground.
Appearance
Croc appears the same as bane, except with green skin.
Croc's gloves have spikes on the knuckles.
Croc has red, glowing eyes
Croc has no mouth
Croc's boots are dark black, and his pants are light black
Profile
"Killer Croc is a former circus freak, who is now an insane cannibal. He is a 'usual' at Arkham Asylum. He isn't the smartest, but he might as well be the strongest. His personal goal is to defeat then feast upon The Batman."
Theme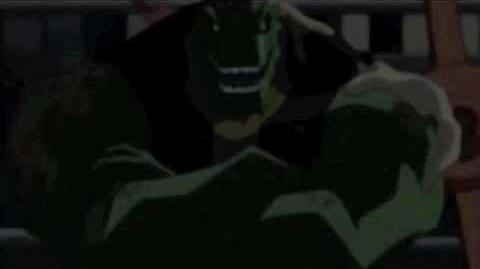 Ad blocker interference detected!
Wikia is a free-to-use site that makes money from advertising. We have a modified experience for viewers using ad blockers

Wikia is not accessible if you've made further modifications. Remove the custom ad blocker rule(s) and the page will load as expected.