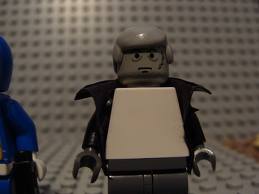 Cyrus Gold was an old man, who was attacked with a shovel and buried in a cursed swamp by his wife. Centuries later, Cyrus came back as the monster: Solomon Grundy. Grundy appears in the game Lego Batman Begins.
Lego Batman Begins
Chapter 3, Part 2
Hero Mode
After returning to the dead in his last fight with Batman, Grundy's
body has been found by Penguin, who seeks revenge, and froms a labaratory under The Iceberg Lounge in Arkham City. There, he brings Grundy back to life, for revenge, and chains Grundy to a wall. When Batman and Robin hear of Penguins revenge, they track him down to the Iceberg Lounge, where Penguin taunts the dynamic duo, and a huge riot forms in the Iceberg Lounge. More to be added...
Ad blocker interference detected!
Wikia is a free-to-use site that makes money from advertising. We have a modified experience for viewers using ad blockers

Wikia is not accessible if you've made further modifications. Remove the custom ad blocker rule(s) and the page will load as expected.