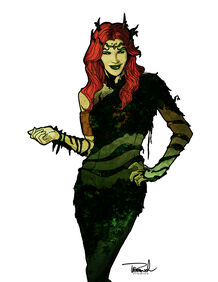 Pamela Isley became an eco-terrorist who used poison to commit her crimes
Biography
Appearance
Pamela no longer considers herself a human, so she paints her skin green, and wears plant-like outfits
Episodes
Personality
Abilities
Poison Ivy is skilled at making chemicals and poisons. She is very skilled at the art of manipulation
Weapons and Paraphinalia
Poison Ivy uses various kinds of poison. One of her favorite methods of delivery is putting poison over rubber lips, and using them to poison whoever kisses her.
Theme
Gallery
Ad blocker interference detected!
Wikia is a free-to-use site that makes money from advertising. We have a modified experience for viewers using ad blockers

Wikia is not accessible if you've made further modifications. Remove the custom ad blocker rule(s) and the page will load as expected.